If you are anything like me, buying Christmas gifts can be a daunting task. You have to know what everyone wants. You have to keep track of colors, sizes, allergies, etc…
It's almost enough to suck the Christmas spirit right out of a person. OK… maybe that's going a bit too far, but, it's definitely enough to leave you with a whopper of a holiday headache.
To that end, I have put together this list of fun gift ideas for writers, complete with pictures and links.
And YES! I want them all too!
What writer wouldn't!
(please, family and friends, take the hint)
The following are in no real order other than how I ran across each item.
1. Fancy and fun (and portable size) notebooks!
I don't care what any other silly post on the internet says… a notebook is never a gift any author will return! Notebooks have a particular appeal to anyone who spends their days and nights dealing with stories that pop into their brain at all hours with no warning whatsoever.  The cuter… the better. And writing or book themed is always the best, of course!
I am particularly fond of Barnes & Noble's selection. No one does literary themes better!
2. Litographs tee, tote, poster or scarf (my personal favorite)
I personally have wanted one of these for… well, since I first discovered them! And, while I would LOVE to have one with the words from A Reluctant Assassin or [even more fitting] Life After E.L.E., neither of them are on the extensive list already on the Litographs site, so I would happily settle for a scarf with Cinder on it!!! #fangirling HARD!
3. Starbucks gift cards (feel free to insert any other coffee shop or tea shop your favorite writer prefers)
Who am I kidding… this should have been #1! I know it's #1 on my own personal list! Whenever ANYONE is uncertain of what to get me – whether it be for Christmas, birthday, or just because – you CANNOT go wrong with a Starbucks gift card. First, if you know me at all, you know how deeply my obsession goes. Second, all writers need fuel and Starbucks is (for me anyway) the BEST around!
I would also like to point out here that Kroger has THE BEST deal around when it comes to gift cards. EVERY SINGLE ONE you buy there gives you DOUBLE fuel points. And for anyone who worries about the rapidly rising price of fuel, this is a MUST. Every hundred points saves you 10 cents per gallon! You can't beat that!
4. Coffee-related . . . anything really
While we're on the subject of coffee, you can never go wrong with coffee/tea mugs, cute coffee-related objects and/or cute little sayings on neat things we can hang around the house to cheer us on, inspire us or just make us laugh when the writing muse is hiding out and driving us crazy in the process.
CAFEPRESS is a GREAT resource!
5. A Totebag
Because writers carry around a ton of stuff – and what better way to carry all those pens and notebooks and laptop, than in a bag that proudly defines who you are!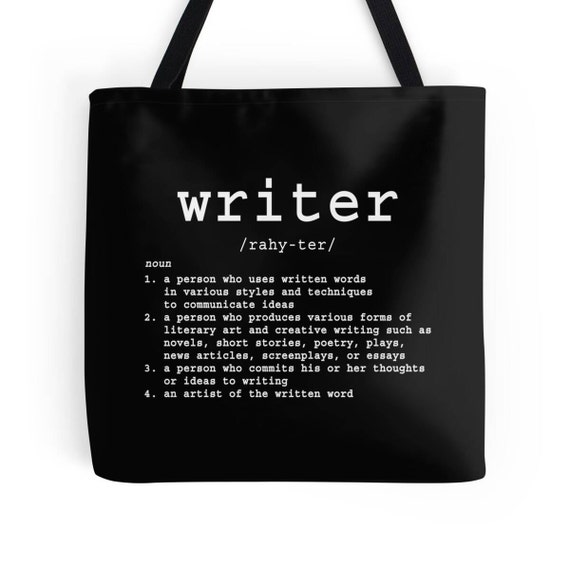 6. A bookcase
Writers read… a LOT! And we have to have somewhere to put our books, don't we? Unique bookcases are always a crowd pleaser.
7. Aqua Notes
Sometimes the best ideas for stories, characters or blog post pop into our heads in the shower — but we forget about them when we move on with our day. Problem solved with Aqua Notes. This waterproof notepad can help document the greatest of ideas and grocery lists.
And since this phenomenon also happens in the brains of people who aren't writers (research shows that creatives of all types have shower epiphanies), Aqua Notes make a good gift for just about anyone!
8. Jewelry and/or Trinkets
I will be the first to admit that I am not a huge wearer or jewelry (mostly because my brain is so filled with a myriad of worlds that I forget to put any on before leaving the house) but I do enjoy jewelry – none more so than writing-themed!
Here are a couple of my FAVORITE options! (both linked)
9. Literary Candles
A writer's environment is the first part of their inspiration and surrounding yourself with sights and smells of books can only help!
10. A healthy excuse to get out of the house
When focus is waning, it's easy to get sucked into the rabbit hole of IMDB movie trailers and pinterest. Help your favorite writer  get back on track with a healthy break in their day.  Starbucks is always a great idea for these times – caffeine helps bolster creativity!
See the bustle. . . the chatting that is going on. . . caffeine is our friend!
11. A Personalized Pen
You would think this would be one of those things that might be a bit over the top, but I know I LOVE IT! If your favorite author is anything like me, they should too! Plus it's PRETTY!
12. A trophy for being awesome
That special writer in your life may be one manuscript (or ten) away from winning the Nobel Prize in Literature or the Pulitzer Prize for Fiction, but that doesn't mean they don't deserve a special award for being an awesome writer! In fact you could probably DIY a trophy for your favorite writer with a thrift store trip, some craft supplies, and a lot of creativity.
If you're not the DIY type, here are two of my favorites (both linked)
BONUS item – because who doesn't like a Baker's dozen!
13. The Writer's Toolbox: Creative Games and Exercises for Inspiring the 'Write' Side of Your Brain
For those times when the story has stalled or you need a little inspiration. . . or a laugh!
Besides, who knows writers better than Barnes & Noble!
Have yourself a Merry Christmas!
©JCMorrows 2017